Warlords: Part 1
Young Justice #13
February 5, 2020
Written by
Brian Miachael Bendis, David Walker
Cover by
John Timms, Michael Avon Oeming, Mike Grell
Interior Art by
John Timms
Colored by
Gabe Eltaeb
Lettering by
Wes Abbott
Edited by
Brittany Holzherr, Jamie S. Rich
Young Justice returns! Home! To Earth! Finally! Just in time to confront all of their big issues-like S.T.A.R. Labs! Moms and dads! Naomi! Jinny Hex's trunk! And yes, each other! This starts the wild wind-up to Wonder Comics' first year as the truth behind S.T.A.R. Labs and the reunion of Young Justice is revealed!
Summary of Stephness: Impulse, ordered by Tim to get backup, finds Steph, Aqualad, Arrowette, and Sideways, the "real" Young Justice!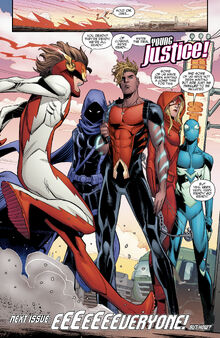 Community content is available under
CC-BY-SA
unless otherwise noted.