Lost in the Multiverse, part 4
Young Justice #10
November 6, 2019
Written by
Brian Michael Bendis
Cover by
John Timms
Interior Art by
John Timms, Nick Derington
Colored by
Gabe Eltaeb, Dave Stewart
Lettering by
Wes Abbott
Edited by
Brittany Holzherr, Mike Cotton, Brian Cunningham
Welcome, Naomi! Wonder Comics' brightest shining star comes to Young Justice! She's ready to join this team of young heroes who have seen it all-and you'll want to be here to watch the sparks fly for the very first time. All this, plus the true story of Jinny Hex.
Summary of Stephness: Steph of Earth-3, the Batwoman, joins Tim Drake (now calling himself "Drake"), Impulse, Amethyst, and Wonder Girl to save Teen Lantern and Jinny Hex from the evil counterparts of Young Justice. True to the Bat-legacy, she has an entire arsenal of drones and technology to throw at the problem. With the help of Jinny's mysterious trunk (inherited from her ancestor Jonah Hex), they defeat evil Young Justice, and Steph thanks our universe's heroes for giving the dark Earth-3 hope. A young child hugs Batwoman as she helps the team to get back to their reality. As Tim disappears back to his home, they share a meaningful look, and Steph-3 sheds a tear.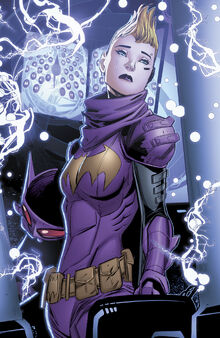 Community content is available under
CC-BY-SA
unless otherwise noted.