"Fitting In"
Robin 80th Anniversary 100-Page Super Spectacular #1
March 18, 2020
Written by
Amy Wolfram, James Tynion IV
Cover by
Derrick Chew, Yasmine Putri, Lee Weeks
Interior Art by
Damion Scott, Nicola Scott, Andy Kubert, Javier Fernandez
Colored by
Brad Anderson, Annette Kwok, David Baron
Lettering by
Andworld Design, Carlos M. Mangual
Edited by
Dave Wielgosz, Paul Kaminski, Ben Abernathy
DC Comics celebrates Robin the Boy Wonder's 80th anniversary in style with an all-star creative team representing each iteration of the iconic character across eight decades of history! From the high-flying adventures of Dick Grayson to the tragedy of Jason Todd, the enthusiasm of Tim Drake and the arrogance of Damian Wayne, the persistence of Stephanie Brown and the rebelliousness of Carrie Kelley—the mantle of Robin has been worn by many, but always represents one thing: a hero.
Summary of Stephness:
"Fitting In", written by Amy Wolfram, drawn by Damion Scott, and colored by Brad Anderson.
Day Three of Steph's time as Robin, she comes in to the Batcave ready for training, despite a confrontation over a school dance the previous night. Despite Steph's attitude and enjoyment of the iconic costume, it doesn't quite fit, breaking in various places, as it was made for Tim. Alfred and Bruce scan Steph and make her a custom suit (which she eagerly awaits), then the new Dynamic Duo heads to Western Town, an old amusement park under attack by Firefly. The villain calls Steph "cosplay girl", and Steph heads after him into a mine-themed ride despite Batman's command to stay put. Batman comes through a tunnel to find Steph tied up on the roller-coaster tracks, but she frees herself and sends the traincar careening into Firefly, capturing him. Batman tells her that she must listen, and Steph counters that he needs to let her be her own Robin. The next day, Steph shows up assuming she's fired, but Batman has made her own space - a changing room of her own. Steph ends the story wearing her personal suit, saying that she is ready.
"Boy Wonders", written by James Tynion IV, drawn by Javier Fernandez, colored by David Baron.
Tim presents his "Gotham Knights" plan to Batman, which includes Steph as a key member of the team.
Steph gets a pinup drawn by Nicola Scott and colored by Annette Kwok, as well as part of the group shot of all the contemporary Robins by Andy Kubert and Brad Anderson.
2000s variant cover by DERRICK CHEW
2010s variant cover by YASMINE PUTRI
Behind the Scenes: This story fits neatly into the end of Robin #126, as Day Three of Steph's time as Robin. It serves as an origin story for Steph's personal costume, and retcons the heavy implication in War Games that Steph didn't know Bruce was Batman (though this was never directly stated, so it's not a complete upheaval of continuity).
Damion Scott posted a fragment of a Steph as Robin story art in January 2020, though he was not listed in any of the publicity or solicitation materials. https://www.instagram.com/p/B7xIZJahsTu/
"W.I.P #Robin 80th anniversary special. I missed drawing these characters"
Scott and colorist Brad Anderson also posted another piece of the comic on twitter and instagram, revealing Anderson's involvement, and that Steph's story is 8 pages: https://www.instagram.com/p/B9U38rrB2uF/
Writer Amy Wolfram was interviewed about the story she wrote for Steph as Robin: https://www.comicsbeat.com/interview-amy-wolfram-robin-80/
"The Beat: For this story, you worked with Damian Scott, who was the artist on Robin for Steph's brief tenure on the book. Was it fun to see him take another crack at the character?
Wolfram: It was great working with Damian. I tried to keep the storytelling close to the original style, including multi-action panels. My favorite page is the rollercoaster panel. I was blown away by how he made the action come to life.
The Beat: This is a very different Robin than the ones you've written in the past with Teen Titans: Year One and the Teen Titans Go! cartoon. How did that past experience inform what you did in your Robin 80th story?
Wolfram: There is no Robin without Batman, whether it's the beginning and working with Batman, or later trying to break free and become his/her own hero or leading a team. It's a powerful dynamic, and I was excited to explore how that would be different with a female sidekick, especially one who had already been a superhero on her own with her own way of doing things before joining Batman.
The Beat: Steph's had a lot of identities over the years. Do you have a favorite time period for her?
Wolfram: She really has done a lot, hasn't she? I think what I like the best is that she's a strong character, no matter which role she is in. And she has a sense of humor.
The Beat: I want to thank you for this story, as Steph is one of my all-time favorite characters in comics, and her run as Robin is so often forgotten. What other projects do you have coming up that you'd like our readers to know about?
Wolfram: Thank you. Stephanie is a favorite for many people, and I really wanted to honor her time as Robin."
Damion Scott posted a sketch cover of the issue featuring his iconic design for Steph!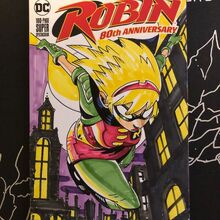 https://www.instagram.com/p/CCk8sLhh29D/?igshid=1520f2rc2loqd
The New York Times posted an article about Robin's 80th anniversary, including a highlight of Steph!
Regular cover by Lee Weeks:
Community content is available under
CC-BY-SA
unless otherwise noted.