Robin: War of the Dragons (volume 5)
Edit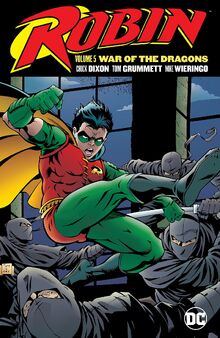 Collects Robin #14, #15, #16, #17-22, Detective Comics #985-986, and Robin Annual #3.
Collected for the first time in years are the early adventures of Tim Drake, a.k.a. Robin!
In these classic tales from Chuck Dixon, considered one of the greatest scribes in the Boy Wonder's history, Tim Drake takes on the mantle of the new Boy Wonder! But dark clouds gather on the horizon as a new villain strolls into Gotham.
Tim Drake (a.k.a Batman sidekick Robin) embarks on classic adventures in his first solo series by fan-favorite comics writer Chuck Dixon; the issues are collected here for the first time ever. As the gangs of Gotham's Chinatown wage war, Tim Drake becomes his alter ego Robin to keep his city safe from their blood feud. With the battle raging across the rooftops of Gotham, Batman pushes Robin away, questioning his decision making and trust in the Huntress. With King Snake, Lynx, the Ghost Dragons and the Silver Monkey leaving carnage in their wake, will Tim be able to reconcile his partnership with Batman before it is too late? 
 Meanwhile, with Tim Drake's relationship with Ariana on the rocks, he will need to fight to win her back while keeping the streets of Gotham safe, rescuing the Spoiler, saving the Mayor and contending with a new gang of ninja burglars.
Presenting Tim Drake's adventures from his first solo series by fan-favorite comics writer Chuck Dixon (NIGHTWING), Tom Grummett (TITANS) and Mike Wieringo (THE FLASH)!
Softcover, 325 pages, full color. Cover price $24.99.
January 2, 2108
Other Formats: