Welcome to the Stephanie Brown Wikia!
Stephanie Brown is a fan favorite member of the Batfamily - but you probably already know that, if you've dropped by for more information about her! Come on in and add some Steph edit love!
Comic Resource Pages:
-Chronology - Steph's appearances in the Post-Crisis continuity, from her first outing to her assuming the Batgirl mantle. Now complete!
-Steph as Batgirl - Steph's amazing two year run as the dashing daredoll, including spinoffs, cameos, and guest appearances. Now complete!
-n52 - Steph's complete appearances from September 2011 to May 2016, both in continuity and alternate universes. Now complete!
-Rebirth - Steph's complete appearances starting in May 2016, both in continuity and alternate universes.
-Infinite Frontier - Steph's complete appearances staring in January 2021 including as a starring member of the Batgirls, both in continuity and alternate universes.
Other Resources:

- NEW! Stephanie Brown Discord Server! Where Steph fans can come in and chat!
- NEW! Live Action Appearances- Stephanie Brown made her CW debut.
-Young Justice (TV series) - Steph appears as Spoiler in Young Justice: Outsiders, the long-awaited third season of the animated series, first released on DC Universe.
-Creators - Some of the folk who have had a hand in shaping Steph's journey!
-Character Pages (Contains profiles of Steph and her associates, appearances, and other details)
-Media - Interviews, News Articles, Advertisements, and more concerning our intrepid heroine!
-Art
News
September 8, 2021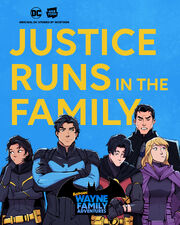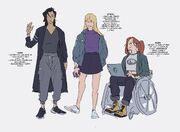 Steph as Spoiler is featured in the first ever official DC Webtoon - Batman: Wayne Family Adventures! September 3, 2021
Stephanie Brown Spoiler has become a playable character in DC Legends, the mobile combat RPG game, with her own introductory event and awesome costume design! https://twitter.com/DCLegends/status/1430633992135471106 April 8, 2021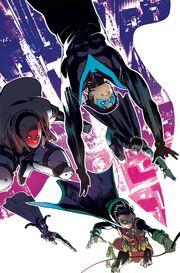 DC is running a Round Robin Contest for a new 6 issue miniseries, with voting done on Twitter, Instagram, and DC Universe Infinite. One of the series is called "Robins", written by Tim Seeley, art by Baldemar Rivas. The promotional image features Dick, Jason, Tim, Damian, and Steph! The pitch reads: "In the Blüdhaven apartment of Dick Grayson, a group of young people meets for coffee, doughnuts, and kvetching (between long, awkward silences.) The only thing they have in common? All were once Kid Wonders. Sidekicks to Batman. Robins. They're being hunted by one claiming to be the first sidekick to Batman." This series likely plays with the same dynamics as Seeley's earlier comic featuring this team of five Robins, Batman: Gotham Nights #12: Five Little Robins.
UPDATE MAY 5, 2021 - the preview page #1 by Seeley and Rivas has been released for the third round of voting!
Update August 2021 - Robins has been announced as winner of the contest, starting release in October!
https://www.dccomics.com/blog/2021/08/11/november-is-the-month-of-robin-at-dc

March 28, 2021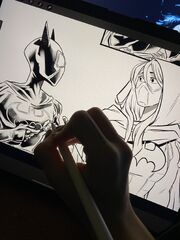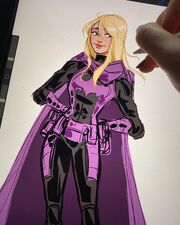 Artist Sweeney Boo posted images from an upcoming story in Batman: Urban Legends featuring the Batgirls, including Steph!
January 25, 2021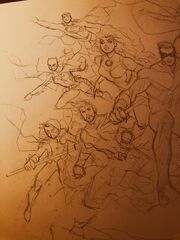 Artist Marcio Takara, currently working on Future State: Justice League Dark, posted some pencilled work in progress, including a clear image of Stephanie Brown as Batgirl!
October 15, 2020
Steph will feature in TWO stories in the January-February 2021 two-month event "Future State." She appears in Future State: The Next Batman #2 and #4 in the backup story "Batgirls" written by Vita Ayala, drawn by Aneke. She also appears in Future State: Robin Eternal #1 and #2, written by Meghan Fitzmartin, drawn by Eddy Barrows.
April 20, 2020
Jim Lee, as part of the initiative to help local comic shops during the corona virus shutdown, drew Stephanie Brown as Batgirl, and sold it on Ebay! Steph reached $10,600 in the auction, and as Lee says in the item description: "From her stint as Batgirl, Stephanie Brown has developed a rabid following! Here she delights running along the walls of Gotham City!" Newsarama also reports that "The plan is to use these as variant covers to upcoming DC titles, and also collect them into a book of its own.".
August 20, 2019
Celebrating 10 years after Steph's first issue as Batgirl, Newsarama did a fantastic interview with Chuck Dixon, Bryan Q. Miller, and Lee Garbett revealing some new behind-the-scenes information about our beloved Eggplant Avenger!
https://www.newsarama.com/46588-stephanie-brown-s-10-year-anniversary-as-batgirl.html
July 17, 2018
As part of the SDCC 2018 promotion, TV Guide magazine published an article about Young Justice: Outsiders(Season 3), including a blurb about Steph's path as a hero from season 2! We also got a profile of Steph from one of SDCC's tie-in activities!
February 18, 2018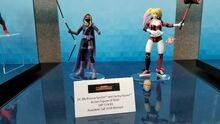 Big collector's news for Steph fans! Steph is getting her first action figure as Spoiler, a 6 inch one as part of the DC Mutliverse series from Mattel. Additionally, the Kickstarter Exclusive board game Batman: Gotham City Chronicles is set to feature Steph as a playable miniature and figure, and on the box art by superstar penciller David Finch. UPDATE: Steph has been added as a final Stretch Goal!
July 21, 2017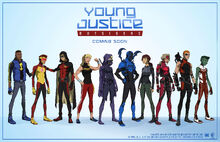 At SDCC, it was revealed that Steph will be appearing as Spoiler in the upcoming (2018) Young Justice: Outsiders series, the third season of the formerly cancelled animated show. Steph did appear in the second season as a civilian.
http://deadline.com/2017/07/young-justice-outsiders-character-designs-shows-thirteen-character-comic-con-1202132790/
March 27, 2016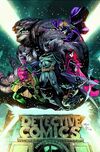 DC Universe Rebirth will feature Stephanie Brown as Spoiler in the relaunched Detective Comics, written by James Tynion IV, where she, Tim Drake, and Cassandra Cain will attend "Gotham Boot Camp" led by Batman and Batwoman!
February 27, 2016
Talking Comic's podcast Legendary Runs covered Bryan Q. Miller's amazing Batgirl run in their podcast this week! You can find it here!
August 31, 2015
Steph as Spoiler shows up in a panel of the
preview for Batman and Robin Eternal
, drawn by Tony Daniel: 
August 16, 2015
Exciting News! After Steph's triumphant guest appearance in the Batgirl Annual, she's sharing a cover on Batgirl #46! Drawn by current n52 Steph master, David Lafuente!
July 8, 2015
We were linked in the review of Catwoman #42! Quoting Robin #105, "Purple would have looked stupid," this review celebrates Steph's dramatic entrance into Selina's world.
July 3, 2015
The wealth of Steph in July continues! Steph will appear in Batgirl Annual #3, according to this interview with Steph's Batman Eternal artist, David Lafuente.
May 21, 2015
New interview with Genevieve Valentine about Steph's upcoming (at least) 2-issue guest starring arc in Catwoman!
May 13, 2015
SURPRISE! Steph as Batgirl shows up in CONVERGENCE 6, and even has a line!
April 21, 2015
Looks like July 2015 will be an exciting month for Steph lovers! Catwoman #42 will feature a guest appearance by the Spoiler, and the Teen Titans GO! variant cover for Detective Comics #42 will feature Steph as Robin!
April 18, 2015
As part of their July 2015 Teen Titans Go variant cover theme, Steph appears as Robin on the Dan Hipp variant cover for Detective Comics #42 (http://mrhipp.tumblr.com/post/116729444773/dc-comics-variant-cover-theme-for-july-is-teen)!
April 8, 2015
Convergence is here! For two months, we'll get Steph, Cass, and Tim fighting for Gotham's survival!
April 6, 2015
Updated Interviews with a collection of behind-the-scenes pieces on Batman Eternal. Be sure to check it out - it looks at the recreation of Steph all the way to her heroic actions in the conclusion, and sketches out some things that might not be obvious if you have been following along over a year!
April 4, 2015
Our Games section is updated with news about Steph's appearance in Lego Batman 3: Keepers of the Cape and Cowl! The Batman Eternal costume is in bold evidence!
Sources: http://store.steampowered.com/app/335800/
https://www.facebook.com/LEGOBatmanGame/photos/a.216538901786434.48815.199285640178427/764197647020554/?type=1
March 20, 2015
New interview with Alisa Kwitney about Batgirl: Convergence!
March 11, 2015
BREAKING NEWS! Spoiler appears in Detective Comics: Engame #1 (one-shot), a sort of comic pilot for the We Are Robins title starting post-Convergence (in June). This bodes well for future appearances post-Eternal! (See our n52 section for issue details!)
November 11, 2014
Steph as Batgirl will be getting her own two-issue miniseries in the multi-universe event Convergence! We are currently updating information about this series in the n52 page until we get enough material to create a separate issue page.
October 9, 2014
We're back! After three years, Stephanie is finally a major player in the DC universe again. Hopefully, we'll be able to make this wiki the place for Steph fans to come together again!
---
Upcoming Appearances
Writers: Becky Cloonan and Michael Conrad
Artist: Robbi Rodriguez
On Sale July 12, 2022
The Batgirls break into the Iceberg Lounge in order to rescue Seer, who's held hostage by the Saints! Nightwing and Oracle get dressed up and go undercover to help the Batgirls, while also making the mission a date night! But why would they help Seer, the very person who's been hacking into their network and harassing them? Read here to find out!
Writers: Becky Cloonan and Michael Conrad
Artist: Jonathan Case
On Sale August 9, 2022
After what happened with Seer, there's no time to waste for the Batgirls as they go Batgirling back into detective mode! And this new murder hits even closer to home— literally! As Steph, Cass, and Babs are racing to put the clues together about who might be the Hill Ripper, they get an unexpected visit. Who doesn't love a killer fight scene? Yet with all this murder going on, Steph still manages to get her flirt on!
Now Playing
Writers: Becky Cloonan and Michael Conrad
Artist: Robbi Rodriguez
On Sale June 14, 2022
With the Batgirls' damaged reputation still on the line and repairs on the Clock Tower well under way, Babs just might have finally found the key to their redemption. Meanwhile, serial killer the Hill Ripper is still on the loose! The girls receive their first major break in the case from an unlikely source—unfortunately for them, the main suspect is among the most enigmatic and dangerous villains in all of Gotham!
Writers: Becky Cloonan and Michael Conrad
Artist: Jorge Corona
On Sale May 10, 2022
With Babs kidnapped and tied down by Spellbinder, the Batgirls have to navigate through Tutor's operations without an Oracle. Can Babs escape Spellbinder's hypnosis before he's done painting her to add to his collection of other drawings of beautiful young women?
Writers: Becky Cloonan and Michael Conrad
Artist: Jorge Corona
On Sale April 12, 2022
The Batgirls and Tutor face off again, but this time at the creepy, abandoned Arkham Asylum! Can the Batgirls stop Tutor from using his art to put all of Gotham in a mind-controlled trance? Let's hope the Batgirls found a way to avoid being put under his control…again! Meanwhile, Babs's hands are tied—literally—when she comes face to face with Spellbinder.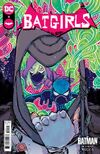 Writers: Becky Cloonan and Michael Conrad
Artist: Jorge Corona
On Sale March 8, 2022
The Batgirls have enough evidence to expose Tutor for his crimes: his underground art gallery of stolen goods. But will Steph be pulled into a hypnotic trance again like last time? Meanwhile, get ready for magical bookstores, a kick-butt fight scene, and to top it all off, Babs gets asked on…a date…with an ex? Also: first appearance of new villain SPELLBINDER!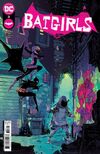 Writers: Becky Cloonan and Michael Conrad
Artist: Jorge Corona
On Sale February 8, 2022
The Batgirls' investigation leads them to believe new street artist Tutor is responsible for putting innocent Gothamites under trance, using his murals and then stealing their stuff. Luckily for them, Tutor is hosting an underground art show at the old shipyard tonight, so Babs and the Batgirls go undercover as attendees, so the Batgirls can prove to Babs once and for all that Tutor's the one behind all the strange crimes! And to make matters worse, Babs bumps into Tutor's ex at the event! Oof!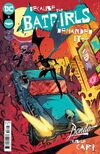 Writers: Becky Cloonan and Michael Conrad
Artist: Jorge Corona
On Sale January 11, 2022
Bondo! Bondo! Bondo! With their new secret muscle car and their new secret patrol route, Batgirls Cassandra Cain and Stephanie Brown find moving to their new neighborhood—thanks to Oracle instructing them to "lay low"—that much easier to bear because they have each other. Steph begins witnessing some strange actions through the window of the building across the street and can't help but investigate if the recent murders are connected to them! Meanwhile, Oracle realizes the most effective way for the girls to wear her newly upgraded comms is by piercing their ears, and Cass freaks out!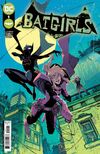 Writers: Becky Cloonan and Michael Conrad
Artist: Jorge Corona
On Sale December 14, 2021
Um, hello—you didn't actually think we'd keep you waiting this entire year without giving you the Batgirls series we've all been wanting for forever, right? No way, we love you too much—just like Batgirls Cassandra Cain and Stephanie Brown, who are only able to navigate the dark, gritty, and oftentimes scary city of Gotham by leaning on the bright light that is their best-friendship. Mentored by Oracle, the Batgirls move to the other side of town where Barbara Gordon can keep a better eye on them while the hacker Seer is still invading their lives. Steph may be too rash sometimes, and Cass doesn't speak much—but what they lack in similarities they make up for with their mutual respect and love for each other…and what makes them stronger together as Batgirls! And they may be good at kicking ass, but they are just trying their best to be normal teenagers—who'll borrow the keys to a muscle car that belonged to a bad guy and perhaps give it a joyride around town without a driver's license, then race to get back home to Oracle by curfew…! Splashing the pages with bright colors against a dark backdrop of Gotham, Batgirls is the pizza slumber party of the year you don't want to miss!
Writer: Josh Williamson
Artist: Gleb Melnikov
On Sale August 24, 2021
Robin reunion! Nightwing, Red Hood, Tim Drake, and Spoiler guest-star as they track Damian down with a plan to bring the young hero back to Gotham. Back to his family. But the son of Batman plans to win the Lazarus Tournament and refuses to return. What starts as a happy reunion quickly turns into a Robin rumble!
---
External Links
Batgirl to Oracle: The Barbara Gordon Podcast
---
Related Wikis
DC Comics • Cassandra Cain Mainframe • Batman • Wonder Woman • Young Justice