Welcome to the Stephanie Brown Wikia!
Stephanie Brown is a fan favorite member of the Batfamily - but you probably already know that, if you've dropped by for more information about her! Come on in and add some Steph edit love!
Comic Resource Pages:
-Chronology - Steph's appearances in the Post-Crisis continuity, from her first outing to her assuming the Batgirl mantle. Now complete!
-Steph as Batgirl - Steph's amazing two year run as the dashing daredoll, including spinoffs, cameos, and guest appearances. Now complete!
-n52 - Steph's complete appearances from September 2011 to May 2016, both in continuity and alternate universes. Now complete!
-Rebirth - Steph's complete appearances starting in May 2016, both in continuity and alternate universes.
Other Resources:
- NEW! Stephanie Brown Discord Server! Where Steph fans can come in and chat!
-Young Justice (TV series) - Steph appears as Spoiler in Young Justice: Outsiders, the long-awaited third season of the animated series, first released on DC Universe.
-Creators - Some of the wonderful folk who have had a hand in shaping Steph's journey!
-Character Pages (Contains profiles of Steph and her associates, appearances, and other details)
-Media - Some interviews with and articles about the people who write the adventures of our heroine!
-Art
News
August 20, 2019
Celebrating 10 years after Steph's first issue as Batgirl, Newsarama did a fantastic interview with Chuck Dixon, Bryan Q. Miller, and Lee Garbett revealing some new behind-the-scenes information about our beloved Eggplant Avenger!
https://www.newsarama.com/46588-stephanie-brown-s-10-year-anniversary-as-batgirl.html
July 17, 2018
As part of the SDCC 2018 promotion, TV Guide magazine published an article about Young Justice: Outsiders(Season 3), including a blurb about Steph's path as a hero from season 2! We also got a profile of Steph from one of SDCC's tie-in activities!
February 18, 2018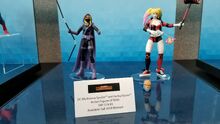 Big collector's news for Steph fans! Steph is getting her first action figure as Spoiler, a 6 inch one as part of the DC Mutliverse series from Mattel. Additionally, the Kickstarter Exclusive board game Batman: Gotham City Chronicles is set to feature Steph as a playable miniature and figure, and on the box art by superstar penciller David Finch. UPDATE: Steph has been added as a final Stretch Goal!
July 21, 2017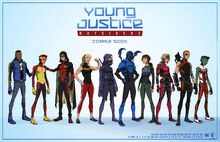 At SDCC, it was revealed that Steph will be appearing as Spoiler in the upcoming (2018) Young Justice: Outsiders series, the third season of the formerly cancelled animated show. Steph did appear in the second season as a civilian.
http://deadline.com/2017/07/young-justice-outsiders-character-designs-shows-thirteen-character-comic-con-1202132790/
March 27, 2016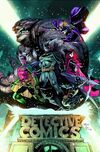 DC Universe Rebirth will feature Stephanie Brown as Spoiler in the relaunched Detective Comics, written by James Tynion IV, where she, Tim Drake, and Cassandra Cain will attend "Gotham Boot Camp" led by Batman and Batwoman!
February 27, 2016
Talking Comic's podcast Legendary Runs covered Bryan Q. Miller's amazing Batgirl run in their podcast this week! You can find it here!
August 31, 2015
Steph as Spoiler shows up in a panel of the
preview for Batman and Robin Eternal
, drawn by Tony Daniel: 
August 16, 2015
Exciting News! After Steph's triumphant guest appearance in the Batgirl Annual, she's sharing a cover on Batgirl #46! Drawn by current n52 Steph master, David Lafuente!
July 8, 2015
We were linked in the review of Catwoman #42! Quoting Robin #105, "Purple would have looked stupid," this review celebrates Steph's dramatic entrance into Selina's world.
July 3, 2015
The wealth of Steph in July continues! Steph will appear in Batgirl Annual #3, according to this interview with Steph's Batman Eternal artist, David Lafuente.
May 21, 2015
New interview with Genevieve Valentine about Steph's upcoming (at least) 2-issue guest starring arc in Catwoman!
May 13, 2015
SURPRISE! Steph as Batgirl shows up in CONVERGENCE 6, and even has a line!
April 21, 2015
Looks like July 2015 will be an exciting month for Steph lovers! Catwoman #42 will feature a guest appearance by the Spoiler, and the Teen Titans GO! variant cover for Detective Comics #42 will feature Steph as Robin!
April 18, 2015
As part of their July 2015 Teen Titans Go variant cover theme, Steph appears as Robin on the Dan Hipp variant cover for Detective Comics #42 (http://mrhipp.tumblr.com/post/116729444773/dc-comics-variant-cover-theme-for-july-is-teen)!
April 8, 2015
Convergence is here! For two months, we'll get Steph, Cass, and Tim fighting for Gotham's survival!
April 6, 2015
Updated Interviews with a collection of behind-the-scenes pieces on Batman Eternal. Be sure to check it out - it looks at the recreation of Steph all the way to her heroic actions in the conclusion, and sketches out some things that might not be obvious if you have been following along over a year!
April 4, 2015
Our Games section is updated with news about Steph's appearance in Lego Batman 3: Keepers of the Cape and Cowl! The Batman Eternal costume is in bold evidence!
Sources: http://store.steampowered.com/app/335800/
https://www.facebook.com/LEGOBatmanGame/photos/a.216538901786434.48815.199285640178427/764197647020554/?type=1
March 20, 2015
New interview with Alisa Kwitney about Batgirl: Convergence!
March 11, 2015
BREAKING NEWS! Spoiler appears in Detective Comics: Engame #1 (one-shot), a sort of comic pilot for the We Are Robins title starting post-Convergence (in June). This bodes well for future appearances post-Eternal! (See our n52 section for issue details!)
March 7, 2015
Convergence interviews from writer Alisa Kwitney (from February - sorry for the delay, Steph fans!) At Comics Alliance, Newsarama, and ComicBook.
November 11, 2014
Steph as Batgirl will be getting her own two-issue miniseries in the multi-universe event Convergence! We are currently updating information about this series in the n52 page until we get enough material to create a separate issue page.
October 9, 2014
We're back! After three years, Stephanie is finally a major player in the DC universe again. Hopefully, we'll be able to make this wiki the place for Steph fans to come together again!
---
Upcoming Appearances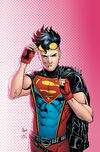 On sale April 8, 2020
Writers: Brian Bendis, David Walker
Artist: John Timms
Young Justice versus S.T.A.R. Labs! What happens when a universe reboots right under you? Conner is about to find out! The entire Young Justice team confronts the evil genius behind S.T.A.R. Labs and the truth about Conner Kent. This will bring Conner to the doorstep of his namesake, Clark Kent, to find out more about himself and the DC Universe. Guest-starring Superman in a unique crossover with Action Comics.
On Sale July 8?, 2020
Writer: Brian Bendis
Artist: John Timms
@BrianMBendis: Thank you! the next two issues of #youngjustice are going to be a mad mad mad mad world of wonder comics crazy. guest starring EVERYONE! THEN we'll settle down into some smaller stories. 16 is bart and Conner, 17 is bart, Conner and Tim, 18 is Tim and... Spoiler. #DCWonderComics
Now Playing
Robin 80th Anniversary 100-Page Super Spectacular #1
On sale March 18, 2020
Writer: Amy Wolfram
Artists: Damion Scott, Brad Anderson
DC Comics celebrates Robin the Boy Wonder's 80th anniversary in style with an all-star creative team representing each iteration of the iconic character across eight decades of history! From the high-flying adventures of Dick Grayson to the tragedy of Jason Todd, the enthusiasm of Tim Drake and the arrogance of Damian Wayne, the persistence of Stephanie Brown and the rebelliousness of Carrie Kelley—the mantle of Robin has been worn by many, but always represents one thing: a hero.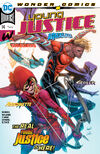 On sale March 11, 2020
Writers: Brian Bendis, David Walker
Artist: John Timms
Now that Young Justice has figured out who the bad guys are, it's time to bring the fight to S.T.A.R. Labs' front door! But the combined forces of Dial H for Hero, the Wonder Twins, Naomi, and the entire Young Justice roster may not be enough to defeat these evil scientists. It's time to call in some super-powered backup…the new Young Justice! Plus, how will Superman revealing his secret identity affect Conner Kent?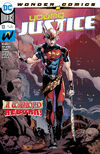 On sale February 5, 2020
Writer: Brian Michael Bendis
Artist: John Timms, Mike Grell, Michael Avon Oeming
Another Wonder Comics extravaganza kicks off with Young Justice searching for Conner Kent as the teen Superboy find himself trapped in the mysterious world of Skartaris, the home of legendary DC character Warlord! Wonder Comics curator and Young Justice writer Brian Michael Bendis welcomes writer David F. Walker to the team alongside rising-star artist John Timms!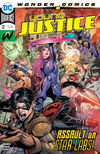 On sale January 9, 2020
Writer: Brian Michael Bendis
Artist: John Timms
It's an epic Wonder Comics crossover: Naomi, the Wonder Twins, and Young Justice all come together for the first time to confront the secrets behind the entire first year of the teen team's series. Where did Connor Kent come from? Why does Bart Allen remember everyone but no one else does? How does it all connect to Jinny Hex's trunk? It's a Wonder Comics blockbuster!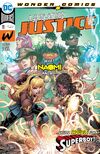 On sale December 4, 2019
Writer: Brian Michael Bendis
Artist: John Timms
Young Justice returns! Home! To Earth! Finally! Just in time to confront all of their big issues-like S.T.A.R. Labs! Moms and dads! Naomi! Jinny Hex's trunk! And yes, each other! This starts the wild wind-up to Wonder Comics' first year as the truth behind S.T.A.R. Labs and the reunion of Young Justice is revealed!
The Green Lantern: Blackstars #2
On sale December 4, 2019
Writer: Grant Morrison
Artist: Xermanico
Target: Earth! Hal Jordan and the Blackstars will stop at nothing to bend the planet to its leader's whims, and Earth's greatest heroes pull out all the stops to fight these fascists. Betrayals of cosmic consequence abound! And why is Earth's sun turning orange? We can only hope Superman figures that one out before it's too late...
On sale November 20, 2019
Writer: Scott Snyder
Artist: Francis Manapul, Howard Porter
How powerful is too powerful? Lex Luthor has assembled everything he needs to complete his plan of turning the world toward doom, including reviving the ancient goddess Perpetua and restoring her powers. But can he keep Perpetua from dragging the DC Universe into the abyss alongside the rest of the Multiverse? This is a question that hero and villain alike must ask, as the epic battle between the Justice League and the Legion of Doom across space and time comes crashing together. Everything that happens here sets the stage for the senses-shattering finale of the Justice/Doom War-and the fate of all existence hangs in the balance!
---
External Links
Batgirl to Oracle: The Barbara Gordon Podcast
---
Related Wikis
DC Comics • Cassandra Cain Mainframe • Batman • Wonder Woman • Young Justice
Community content is available under
CC-BY-SA
unless otherwise noted.