Welcome to the Stephanie Brown Wikia!
Stephanie Brown is a fan favorite member of the Batfamily - but you probably already know that, if you've dropped by for more information about her! Come on in and add some Steph edit love!
Comic Resource Pages:
-Chronology - Steph's appearances in the Post-Crisis continuity, from her first outing to her assuming the Batgirl mantle. Now complete!
-Steph as Batgirl - Steph's amazing two year run as the dashing daredoll, including spinoffs, cameos, and guest appearances. Now complete!
-n52 - Steph's complete appearances from September 2011 to May 2016, both in continuity and alternate universes. Now complete!
-Rebirth - Steph's complete appearances starting in May 2016, both in continuity and alternate universes.
Other Resources:
- NEW! Stephanie Brown Discord Server! Where Steph fans can come in and chat!
-Young Justice (TV series) - Steph appears as Spoiler in Young Justice: Outsiders, the long-awaited third season of the animated series, first released on DC Universe.
-Creators - Some of the wonderful folk who have had a hand in shaping Steph's journey!
-Character Pages (Contains profiles of Steph and her associates, appearances, and other details)
-Media - Some interviews with and articles about the people who write the adventures of our heroine!
-Art
News
October 15, 2020
Steph will feature in TWO stories in the January-February 2021 two-month event "Future State." She appears in Future State: The Next Batman #2 and #4 in the backup story "Batgirls" written by Vita Ayala, drawn by Aneke. She also appears in Future State: Robin Eternal #1 and #2, written by Meghan Fitzmartin, drawn by Eddy Barrows.
April 20, 2020
Jim Lee, as part of the initiative to help local comic shops during the corona virus shutdown, drew Stephanie Brown as Batgirl, and sold it on Ebay! Steph reached $10,600 in the auction, and as Lee says in the item description: "From her stint as Batgirl, Stephanie Brown has developed a rabid following! Here she delights running along the walls of Gotham City!" Newsarama also reports that "The plan is to use these as variant covers to upcoming DC titles, and also collect them into a book of its own.".
August 20, 2019
Celebrating 10 years after Steph's first issue as Batgirl, Newsarama did a fantastic interview with Chuck Dixon, Bryan Q. Miller, and Lee Garbett revealing some new behind-the-scenes information about our beloved Eggplant Avenger!
https://www.newsarama.com/46588-stephanie-brown-s-10-year-anniversary-as-batgirl.html
July 17, 2018
As part of the SDCC 2018 promotion, TV Guide magazine published an article about Young Justice: Outsiders(Season 3), including a blurb about Steph's path as a hero from season 2! We also got a profile of Steph from one of SDCC's tie-in activities!
February 18, 2018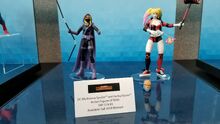 Big collector's news for Steph fans! Steph is getting her first action figure as Spoiler, a 6 inch one as part of the DC Mutliverse series from Mattel. Additionally, the Kickstarter Exclusive board game Batman: Gotham City Chronicles is set to feature Steph as a playable miniature and figure, and on the box art by superstar penciller David Finch. UPDATE: Steph has been added as a final Stretch Goal!
July 21, 2017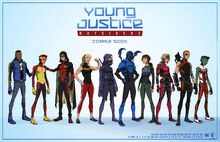 At SDCC, it was revealed that Steph will be appearing as Spoiler in the upcoming (2018) Young Justice: Outsiders series, the third season of the formerly cancelled animated show. Steph did appear in the second season as a civilian.
http://deadline.com/2017/07/young-justice-outsiders-character-designs-shows-thirteen-character-comic-con-1202132790/
March 27, 2016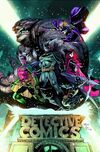 DC Universe Rebirth will feature Stephanie Brown as Spoiler in the relaunched Detective Comics, written by James Tynion IV, where she, Tim Drake, and Cassandra Cain will attend "Gotham Boot Camp" led by Batman and Batwoman!
February 27, 2016
Talking Comic's podcast Legendary Runs covered Bryan Q. Miller's amazing Batgirl run in their podcast this week! You can find it here!
August 31, 2015
Steph as Spoiler shows up in a panel of the
preview for Batman and Robin Eternal
, drawn by Tony Daniel: 
August 16, 2015
Exciting News! After Steph's triumphant guest appearance in the Batgirl Annual, she's sharing a cover on Batgirl #46! Drawn by current n52 Steph master, David Lafuente!
July 8, 2015
We were linked in the review of Catwoman #42! Quoting Robin #105, "Purple would have looked stupid," this review celebrates Steph's dramatic entrance into Selina's world.
July 3, 2015
The wealth of Steph in July continues! Steph will appear in Batgirl Annual #3, according to this interview with Steph's Batman Eternal artist, David Lafuente.
May 21, 2015
New interview with Genevieve Valentine about Steph's upcoming (at least) 2-issue guest starring arc in Catwoman!
May 13, 2015
SURPRISE! Steph as Batgirl shows up in CONVERGENCE 6, and even has a line!
April 21, 2015
Looks like July 2015 will be an exciting month for Steph lovers! Catwoman #42 will feature a guest appearance by the Spoiler, and the Teen Titans GO! variant cover for Detective Comics #42 will feature Steph as Robin!
April 18, 2015
As part of their July 2015 Teen Titans Go variant cover theme, Steph appears as Robin on the Dan Hipp variant cover for Detective Comics #42 (http://mrhipp.tumblr.com/post/116729444773/dc-comics-variant-cover-theme-for-july-is-teen)!
April 8, 2015
Convergence is here! For two months, we'll get Steph, Cass, and Tim fighting for Gotham's survival!
April 6, 2015
Updated Interviews with a collection of behind-the-scenes pieces on Batman Eternal. Be sure to check it out - it looks at the recreation of Steph all the way to her heroic actions in the conclusion, and sketches out some things that might not be obvious if you have been following along over a year!
April 4, 2015
Our Games section is updated with news about Steph's appearance in Lego Batman 3: Keepers of the Cape and Cowl! The Batman Eternal costume is in bold evidence!
Sources: http://store.steampowered.com/app/335800/
https://www.facebook.com/LEGOBatmanGame/photos/a.216538901786434.48815.199285640178427/764197647020554/?type=1
March 20, 2015
New interview with Alisa Kwitney about Batgirl: Convergence!
March 11, 2015
BREAKING NEWS! Spoiler appears in Detective Comics: Engame #1 (one-shot), a sort of comic pilot for the We Are Robins title starting post-Convergence (in June). This bodes well for future appearances post-Eternal! (See our n52 section for issue details!)
March 7, 2015
Convergence interviews from writer Alisa Kwitney (from February - sorry for the delay, Steph fans!) At Comics Alliance, Newsarama, and ComicBook.
November 11, 2014
Steph as Batgirl will be getting her own two-issue miniseries in the multi-universe event Convergence! We are currently updating information about this series in the n52 page until we get enough material to create a separate issue page.
October 9, 2014
We're back! After three years, Stephanie is finally a major player in the DC universe again. Hopefully, we'll be able to make this wiki the place for Steph fans to come together again!
---
Upcoming Appearances
Dark Nights: Death Metal The Last Stories of the DC Universe #1
On sale December 8, 2020
Writer: Joshua Williamson, etc.
Artist: Travis Moore, etc.
The last battle against the Batman Who Laughs is at hand…the final fight for everything in the universe. And while the night is usually darkest just before the dawn, what would be the last thing you'd do if you weren't sure the dawn would ever arrive? Join our heroes in their waning hours as we show their journeys through what could be their final moments…heroes that have fought a million times before, but are keenly aware this could be their endgame. These are the stolen moments detailing the last stories of the DC Universe.
Future State: Robin Eternal #1
On sale January 12, 2021
Writer: Meghan Fitzmartin
Artist: Eddy Barrows
Lazarus Resin is on its way to Gotham City, and the Magistrate intends to use this regenerative super drug to make its forces immortal! That is, unless Tim Drake has anything to say about it! Join the ultimate heist at 20,000 feet as Robin and Spoiler hijack the sky convoy that could mean the end of freedom in Gotham forever—if the emotional baggage between Tim and Stephanie doesn't do them in first! It's the fist-flying, sky-diving, robot smashing, fascist-punching adventure that you cannot miss—from rising star writer Meghan Fitzmartin (Supernatural) and top artist Eddy Barrows (Detective Comics)!
Future State: The Next Batman #2
On sale January 19, 2021
"Batgirls"
Writer: Vita Ayala
Artist: Aneke
Also in this issue, Batgirls Cassandra Cain and Stephanie Brown find themselves in a prison where the Magistrate throws heroes and villains alike! What no one knows, though, is that Cassandra was sent there with a mission…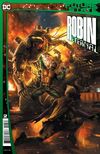 Future State: Robin Eternal #2
On sale February 9, 2021
Writer: Meghan Fitzmartin
Artist: Eddy Barrows
Tim Drake is dead at the hands of the Magistrate. Uh, so why is he getting back up again? With the dangerous and supercharged "Lazarus Resin" coursing through the veins of the hero once known as Robin, can Tim recover enough of his fragile psyche to finish the mission and blow the sky convoy? And can Spoiler and Darcy escape the clutches of Peacekeeper 03 in time to save their friend in the process? It all comes to a head in this cataclysmic finale!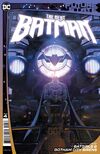 Future State: The Next Batman #4
"Batgirls"
Writer: Vita Ayala
Artist: Aneke
On sale February 16, 2021
In the finale of "Batgirls," after discovering the person locked in the high-security cell is the one who's been sending out "Batman Lives" signals to the Resistance, Stephanie Brown and Cassandra Cain must work together to make sure they take that person when they escape their prison!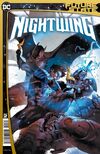 Writer: Andrew Constant
Artist: Nicola Scott
On sale February 16, 2021
It's an all-new dynamic for the Dynamic Duo when Nightwing and Gotham's mysterious new Batman join forces against the Magistrate. But when the totalitarian force controlling the city declares the two heroes their primary targets, Nightwing will need to call on the full force of his hidden resistance, including two Batgirls, Huntress, and Two-Face! But even then, will it be enough? Find out in this action-packed conclusion!
Now Playing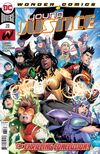 On sale November 3, 2020
Writers: Brian Michael Bendis, David F. Walker
Artist: Scott Godlewski
For the first time in months, the entire Young Justice team comes together to face a threat bigger than anything they've faced before. Just as the team has come to grips with their fractured legacy, someone from Young Justice's past has come back to murder them! Guest-starring the Wonder Twins, Dial H for Hero, and Naomi-plus some other Wonder Comics surprises too hot to mention here! Don't miss this final issue from the Eisner Award-nominated co-writers of Naomi!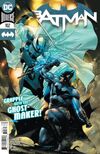 On sale November 3, 2020
Writer: James Tynion IV
Artists: Carlo Pagulayan, Carlos D'Anda
GHOST STORIES, PART 1. Bruce Wayne and the city he loves have changed dramatically following the events of "The Joker War," but Batman and his mission are eternal. But not everyone thinks that should be the case... The mysterious vigilante known as Ghost-Maker has known Bruce since they were teenagers, and he's made his decision. It's time Gotham City had a new hero.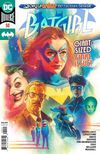 On sale October 27, 2020
Writer: Cecil Castellucci
Artists: Emanuele Lupacchino, Aneke, Marguerite Sauvage
All good things must come to an end, as we wrap up this run of Batgirl with one final oversized celebratory issue! In the aftermath of "The Joker War," Gotham is left in pieces that need to be picked up by Barbara and Alejo's team—but is Gotham a city worth saving anymore, and how much longer does our girl have it in her to keeping fighting for it as Batgirl? Then, if Barbara is to ever give her relationship with Jason a chance, she knows she has to face him and finally make amends with the act that crippled him.
Dark Nights: Death Metal Rise of the New God #1
On sale October 27, 2020
Writers: James Tynion IV, Bryan Edward Hill
Artists: Jesus Merino, Nik Virella
Batman. Always. Wins. This irrevocable truth resonates to the very heart of Perpetua's battle with the Batman Who Laughs…and when her ally reveals his absolute nature, she will upend this mantra and destroy the last planet. His planet. But that's not enough…and the mother of all creation must wonder, if power lies in destruction, why would she ever stop? But that's the thing about truth…when it turns to fact, there's no disputing its godlike reverence…and so enters the Darkest Knight. Featuring a backup story that spins out of the cliffhanger from Dark Nights: Death Metal Multiverse's End #1.
DCeased: Hope at World's End #12
On sale October 20, 2020
Writer: Tom Taylor
Artist: Marco Failla
It's all out war as the heroes fight to save the thousands of refugees…but what fresh victims will the mighty Anti-Life Army take or turn?! Will this be the final stand of the junior Trinity?!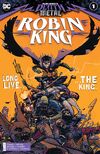 Dark Nights: Death Metal Robin King #1
On sale October 20, 2020
Writers: Tony Patrick, Peter Tomasi
Artists: Daniel Sampere, Riley Rossmo
With a utility belt filled to the brim with weapons designed to kill every hero in the DCU, Robin King is the most sadistic soldier in the Darkest Knight evil army! Can anyone stop him from laying waste to Earth's last line of defense? And how did he become one of the Batman Who Laugh's groblins in the first place? And in the backup story, can the Robins liberate Gotham City from the Darkest Knight's control?
On sale October 13, 2020
Writer: Bryan Edward Hill
Artist: Marcio Takara
Series finale! The war with Ra's al Ghul reaches its end, and none of the Outsiders will ever be the same. And none of them might ever be a team again! Did Batman choose the wrong allies to assemble to fight Ra's? Or did those allies make a mistake in believing in Batman? The critically acclaimed series comes to its end!
On sale October 6, 2020
Writer: James Tynion IV
Artists: Jorge Jimenez, Carlo Pagulayan, Guillem March
"The Joker War" comes to a city-shattering conclusion as Batman battles The Joker in a brutal, no-holds-barred duel! This is a fight 80 years in the making, and its outcome won't just change Batman's life—it will change Gotham City for years to come! Plus, catch the first glimpse of the new villain known as Ghost-Maker! And after the senses-shattering conclusion of "The Joker War" come a pair of short stories that will chart what's to come in Gotham City and Batman. Don't miss the first showdown between Batman and Clownhunter!
DCeased: Hope at World's End #11
On sale October 6, 2020
Writer: Tom Taylor
Artist: Daniele Di Nicuolo
Jon, Damian and Cassie are in for the fight of their lives as the Anti-Life Army has made landfall on their island of survivors! Can this junior Trinity hold off the tens of thousands of the infected long enough to evacuate?!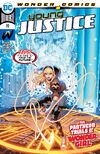 On sale October 6, 2020
Writers: Brian Bendis, David Walker
Artist: Scott Godlewski
Wonder Girl calls Young Justice together to help her with a family problem. Seems the pantheon of Greek gods is having a hard time with some of Cassie's choices. She's taking a stand to change rules as old as the heavens! And she is going to need her team by her side to do it.
On sale September 29, 2020
Writers: James Tynion IV, John Ridley, Joshua Williamson, etc.
Artists: David Lafuente, Guillem March, James Stokoe, etc.
Gotham City is a battleground as The Joker takes over the Wayne fortune and wages a street war against the Dark Knight and his allies! Enter the "war zone" on September 29 with short stories featuring characters like Cassandra Cain, Stephanie Brown, and Luke Fox…and see how they're fighting back in a city under siege!
DCeased: Hope at World's End #10
On sale September 22, 2020
Writer: Tom Taylor
Artist: Marco Failla
Full scale evacuations are under way with Jon, Damian, Cassie and more assigned to oversee and protect a processing center on Nantucket. A glimpse of the future trinity soon takes a dark turn…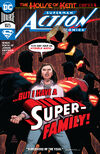 On sale September 22, 2020
Writer: Brian Bendis
Artist: John Romita Jr.
Welcome to the House of Kent! Superman's truth is out there-and now it's time to rewrite the rules! The invisible mafia has taken advantage of the chaos that's descended on Metropolis, so the House of Kent is going to talk to them in a language they'll understand. It's a new adventure featuring Superman like you've never seen him-or them-before, in a story guest-starring Supergirl and two-yes, two!-Superboys!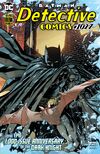 On sale September 15, 2020
Writer: Brian Bendis, etc.
Artist: David Marquez, etc.
Light the Bat-Signal, because Detective Comics #1027 is here! In honor of Batman's first appearance in Detective Comics #27, this special, book-size celebration brings you the biggest names in comics as they chronicle the most epic Batman adventures Gotham City and the DC Universe have ever seen! The World's Greatest Detective has a mountain of cases to crack: Who murdered Gotham's most corrupt police officer? What does The Joker's annual visit mean for Bruce Wayne? And most importantly, what WayneTech mystery will sow the seeds of the next epic Batman event? All this and more await you within the pages of the biggest Batman issue of them all!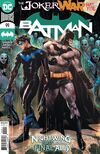 On sale September 15, 2020
Writer: James Tynion IV
Artist: Jorge Jimenez
"The Joker War" part five of six! Things have changed, as Batman realizes he can't fight this war alone. He's going to need help. Before he faces down The Joker, he must call up his trusty partner Dick Grayson! But can Dick reclaim his lost memories in time to join the battle?

DCeased: Hope at World's End #9
On Sale Septebmer 8, 2020
Writer: Tom Taylor
Artist: Marco Failla
The heroes have regrouped at the Fortress of Solitude following the rescue of survivors from Jotunheim. As they plan their next course of action a possible weapon is discovered that could help balance the scales against the Anti-Living—and it's in the hands of the Pied Piper?!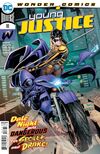 On Sale September 1, 2020
Writer: Brian Bendis
Artist: Scott Godlewski, Michael Avon Oeming
At last, the coolest couple in the DCU gets the spotlight! Tim Drake and Stephanie Brown have sacrificed so much. For each other. For their families. For Young Justice. Now, Tim and Stephanie must take control of their destinies as Young Justice gathers together to help overcome their criminal pasts!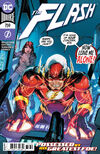 On sale August 11, 2020
Writer: Joshua Williamson
Artists: Rafa Sandoval, Scott Kolins
A NEW STORY LINE BEGINS! "Finish Line" part one of six-leading to the finale of Joshua Williamson's legendary run on The Flash! It's Barry Allen's last race! The Legion of Zoom has won. Central City is in ruins. Barry Allen is trapped in the Speed Force, his body taken over by the Reverse-Flash!

DCeased: Hope at World's End #5
On sale digitally July 14, 2020
Writer: Tom Taylor
Artist: Marco Failla
Damian, Jon, and Cassie take a trip to the deadliest place on Earth—Gotham City! Damian has unfinished business in the fallen city and his best friends aren't going to leave him to face it alone. A Trinity team-up for the ages!
Batman: Gotham Nights #12
Digital Release Date: July 7, 2020
Writer: Tim Seeley
Artist: V Ken Marion
Every current and former Robin has been captured by a mysterious villain! Will these distinctly different students of Batman be able to stand each other long enough to fight off a horde of their greatest enemies?
On sale June 16, 2020
Writers: Brian Bendis, David Walker
Artist: John Timms
Young Justice versus S.T.A.R. Labs! What happens when a universe reboots right under you? Conner is about to find out! The entire Young Justice team confronts the evil genius behind S.T.A.R. Labs and the truth about Conner Kent. This will bring Conner to the doorstep of his namesake, Clark Kent, to find out more about himself and the DC Universe. Guest-starring Superman in a unique crossover with Action Comics.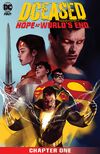 DCeased: Hope at World's End #1
On sale digitally May 19, 2020
Writer: Tom Taylor
Artist: Dustin Nguyen
The Anti-Life Equation has infected over a billion people on Earth. Heroes and villains have fallen. In the immediate aftermath of the destruction of Metropolis, Superman and Wonder Woman spearhead a plan to try to stem the tide of infection, preserve and protect survivors, and develop a plan for what's next. In the Earth's darkest hour heroes will bring hope!
Robin 80th Anniversary 100-Page Super Spectacular #1
On sale March 18, 2020
Writer: Amy Wolfram
Artists: Damion Scott, Brad Anderson
DC Comics celebrates Robin the Boy Wonder's 80th anniversary in style with an all-star creative team representing each iteration of the iconic character across eight decades of history! From the high-flying adventures of Dick Grayson to the tragedy of Jason Todd, the enthusiasm of Tim Drake and the arrogance of Damian Wayne, the persistence of Stephanie Brown and the rebelliousness of Carrie Kelley—the mantle of Robin has been worn by many, but always represents one thing: a hero.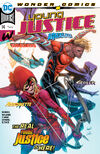 On sale March 11, 2020
Writers: Brian Bendis, David Walker
Artist: John Timms
Now that Young Justice has figured out who the bad guys are, it's time to bring the fight to S.T.A.R. Labs' front door! But the combined forces of Dial H for Hero, the Wonder Twins, Naomi, and the entire Young Justice roster may not be enough to defeat these evil scientists. It's time to call in some super-powered backup…the new Young Justice! Plus, how will Superman revealing his secret identity affect Conner Kent?
---
External Links
Batgirl to Oracle: The Barbara Gordon Podcast
---
Related Wikis
DC Comics • Cassandra Cain Mainframe • Batman • Wonder Woman • Young Justice
Community content is available under
CC-BY-SA
unless otherwise noted.