Welcome to the Stephanie Brown Wikia!
Stephanie Brown is a fan favorite member of the Batfamily - but you probably already know that, if you've dropped by for more information about her! Come on in and add some Steph edit love!
Comic Resource Pages:
-Chronology - Steph's appearances in the Post-Crisis continuity, from her first outing to her assuming the Batgirl mantle. Now complete!
-Steph as Batgirl - Steph's amazing two year run as the dashing daredoll, including spinoffs, cameos, and guest appearances. Now complete!
-n52 - Steph's complete appearances from September 2011 to May 2016, both in continuity and alternate universes. Now complete!
-Rebirth - Steph's complete appearances starting in May 2016, both in continuity and alternate universes.
-Infinite Frontier - Steph's complete appearances staring in January 2021, both in continuity and alternate universes.
Other Resources:

-
NEW!
Stephanie Brown Discord Server
! Where Steph fans can come in and chat!
- NEW! Live Action Appearances- Stephanie Brown made her CW debut.
-Young Justice (TV series) - Steph appears as Spoiler in Young Justice: Outsiders, the long-awaited third season of the animated series, first released on DC Universe.
-Creators - Some of the folk who have had a hand in shaping Steph's journey!
-Character Pages (Contains profiles of Steph and her associates, appearances, and other details)
-Media - Some interviews with and articles about the people who write the adventures of our heroine!
-Art
News
September 8, 2021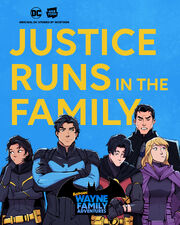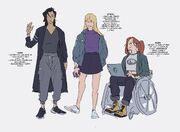 Steph as Spoiler is featured in the first ever official DC Webtoon -
Batman: Wayne Family Adventures
!
September 3, 2021
Stephanie Brown Spoiler has become a playable character in DC Legends, the mobile combat RPG game, with her own introductory event and awesome costume design!
https://twitter.com/DCLegends/status/1430633992135471106
April 8, 2021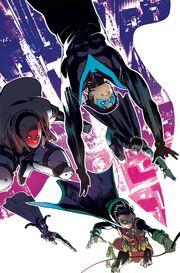 DC is running a Round Robin Contest for a new 6 issue miniseries, with voting done on Twitter, Instagram, and DC Universe Infinite. One of the series is called "Robins", written by Tim Seeley, art by Baldemar Rivas. The promotional image features Dick, Jason, Tim, Damian, and Steph! The pitch reads: "In the Blüdhaven apartment of Dick Grayson, a group of young people meets for coffee, doughnuts, and kvetching (between long, awkward silences.) The only thing they have in common? All were once Kid Wonders. Sidekicks to Batman. Robins. They're being hunted by one claiming to be the first sidekick to Batman." This series likely plays with the same dynamics as Seeley's earlier comic featuring this team of five Robins, Batman: Gotham Nights #12: Five Little Robins.
UPDATE MAY 5, 2021 - the preview page #1 by Seeley and Rivas has been released for the third round of voting!
Update August 2021 - Robins has been announced as winner of the contest, starting release in October!
https://www.dccomics.com/blog/2021/08/11/november-is-the-month-of-robin-at-dc

March 28, 2021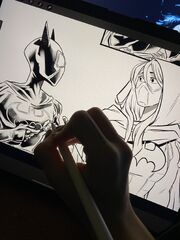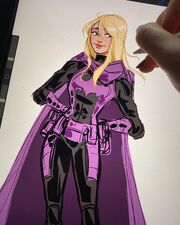 Artist Sweeney Boo posted images from an upcoming story in
Batman: Urban Legends
featuring
the Batgirls, including Steph
!
January 25, 2021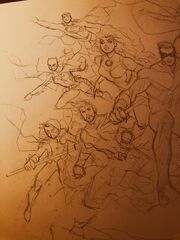 Artist Marcio Takara, currently working on Future State: Justice League Dark,
posted some pencilled work in progress
, including a
clear image of Stephanie Brown as Batgirl
!
October 15, 2020
Steph will feature in TWO stories in the January-February 2021 two-month event "Future State." She appears in Future State: The Next Batman #2 and #4 in the backup story "Batgirls" written by Vita Ayala, drawn by Aneke. She also appears in Future State: Robin Eternal #1 and #2, written by Meghan Fitzmartin, drawn by Eddy Barrows.
April 20, 2020
Jim Lee, as part of the initiative to help local comic shops during the corona virus shutdown, drew Stephanie Brown as Batgirl, and sold it on Ebay! Steph reached $10,600 in the auction, and as Lee says in the item description: "From her stint as Batgirl, Stephanie Brown has developed a rabid following! Here she delights running along the walls of Gotham City!" Newsarama also reports that "The plan is to use these as variant covers to upcoming DC titles, and also collect them into a book of its own.".
August 20, 2019
Celebrating 10 years after Steph's first issue as Batgirl, Newsarama did a fantastic interview with Chuck Dixon, Bryan Q. Miller, and Lee Garbett revealing some new behind-the-scenes information about our beloved Eggplant Avenger!
https://www.newsarama.com/46588-stephanie-brown-s-10-year-anniversary-as-batgirl.html
July 17, 2018
As part of the SDCC 2018 promotion, TV Guide magazine published an article about Young Justice: Outsiders(Season 3), including a blurb about Steph's path as a hero from season 2! We also got a profile of Steph from one of SDCC's tie-in activities!
February 18, 2018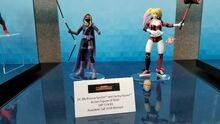 Big collector's news for Steph fans! Steph is getting her first
action figure
as Spoiler, a 6 inch one as part of the DC Mutliverse series from Mattel. Additionally, the Kickstarter Exclusive board game
Batman: Gotham City Chronicles
is set to feature Steph as a playable miniature and figure, and on the box art by superstar penciller David Finch. UPDATE: Steph has been added as a final Stretch Goal!
July 21, 2017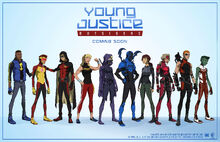 At SDCC, it was revealed that Steph will be appearing as Spoiler in the upcoming (2018) Young Justice: Outsiders series, the third season of the formerly cancelled animated show. Steph did appear in the second season as a civilian.
http://deadline.com/2017/07/young-justice-outsiders-character-designs-shows-thirteen-character-comic-con-1202132790/
March 27, 2016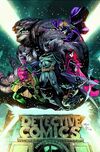 DC Universe Rebirth will feature Stephanie Brown as Spoiler in the relaunched Detective Comics, written by James Tynion IV, where she, Tim Drake, and Cassandra Cain will attend "Gotham Boot Camp" led by Batman and Batwoman!
February 27, 2016
Talking Comic's podcast Legendary Runs covered Bryan Q. Miller's amazing Batgirl run in their podcast this week! You can find it here!
August 31, 2015
Steph as Spoiler shows up in a panel of the preview for Batman and Robin Eternal, drawn by Tony Daniel: 
August 16, 2015
Exciting News! After Steph's triumphant guest appearance in the Batgirl Annual, she's sharing a cover on Batgirl #46! Drawn by current n52 Steph master, David Lafuente!
July 8, 2015
We were linked in the review of Catwoman #42! Quoting Robin #105, "Purple would have looked stupid," this review celebrates Steph's dramatic entrance into Selina's world.
July 3, 2015
The wealth of Steph in July continues! Steph will appear in Batgirl Annual #3, according to this interview with Steph's Batman Eternal artist, David Lafuente.
May 21, 2015
New interview with Genevieve Valentine about Steph's upcoming (at least) 2-issue guest starring arc in Catwoman!
May 13, 2015
SURPRISE! Steph as Batgirl shows up in CONVERGENCE 6, and even has a line!
April 21, 2015
Looks like July 2015 will be an exciting month for Steph lovers! Catwoman #42 will feature a guest appearance by the Spoiler, and the Teen Titans GO! variant cover for Detective Comics #42 will feature Steph as Robin!
April 18, 2015
As part of their July 2015 Teen Titans Go variant cover theme, Steph appears as Robin on the Dan Hipp variant cover for Detective Comics #42 (http://mrhipp.tumblr.com/post/116729444773/dc-comics-variant-cover-theme-for-july-is-teen)!
April 8, 2015
Convergence is here! For two months, we'll get Steph, Cass, and Tim fighting for Gotham's survival!
April 6, 2015
Updated Interviews with a collection of behind-the-scenes pieces on Batman Eternal. Be sure to check it out - it looks at the recreation of Steph all the way to her heroic actions in the conclusion, and sketches out some things that might not be obvious if you have been following along over a year!
April 4, 2015
Our Games section is updated with news about Steph's appearance in Lego Batman 3: Keepers of the Cape and Cowl! The Batman Eternal costume is in bold evidence!
Sources: http://store.steampowered.com/app/335800/
https://www.facebook.com/LEGOBatmanGame/photos/a.216538901786434.48815.199285640178427/764197647020554/?type=1
March 20, 2015
New interview with Alisa Kwitney about Batgirl: Convergence!
March 11, 2015
BREAKING NEWS! Spoiler appears in Detective Comics: Engame #1 (one-shot), a sort of comic pilot for the We Are Robins title starting post-Convergence (in June). This bodes well for future appearances post-Eternal! (See our n52 section for issue details!)
November 11, 2014
Steph as Batgirl will be getting her own two-issue miniseries in the multi-universe event Convergence! We are currently updating information about this series in the n52 page until we get enough material to create a separate issue page.
October 9, 2014
We're back! After three years, Stephanie is finally a major player in the DC universe again. Hopefully, we'll be able to make this wiki the place for Steph fans to come together again!
---
Upcoming Appearances
Batman: Urban Legends #5
Writers: Marguerite Bennett, etc.
Artists: Sweeney Boo, etc.
On sale July 13, 2021
Batgirls: Cassandra Cain and Stephanie Brown are just two teenagers breaking into Wayne Manor so they can play some video games. But when Oracle gives them a mission, the Batgirls suit up and head to an abandoned arcade to investigate.
Future State: Gotham #3
Writers: Joshua Williamson, Dennis Culver
Artist: Giannis Milogiannis
On sale July 13, 2021
Red Hood comes mask to mask with Gotham's most wanted, the Next Batman, as the future of the Bat-Family continues! It's a deadly showdown made worse by the horde of psychopathic criminals who want to kill them both! And finally, the new Gotham villain Warmonger reveals himself!
Truth & Justice #6
Writer: Andrew Aydin
Artist: Juni Ba
On Sale July 20, 2021
It's Damian Wayne's birthday, and the Bat-Family throws him a surprise party in the Batcave! But it seems someone has other plans, as a pair of ancient Hittite deities crash the party! Robin's battle with Tarhun and Arinitti takes him on a wild ride all the way to Budapest, ultimately leading him to his grandfather, Ra's al Ghul. As Batman wages a battle to rescue his son, Damian is left to ponder a life-altering question: choose immortality and stand at his grandfather's side, or choose mortality and continue on his path alongside his father.
Robin #5
Writer: Josh Williamson
Artist: Gleb Melnikov
On Sale August 24, 2021
Robin reunion! Nightwing, Red Hood, Tim Drake, and Spoiler guest-star as they track Damian down with a plan to bring the young hero back to Gotham. Back to his family. But the son of Batman plans to win the Lazarus Tournament and refuses to return. What starts as a happy reunion quickly turns into a Robin rumble!
Now Playing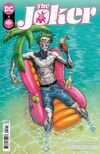 The Joker #3
Writer: James Tynion IV
Artist: Guillem March
On Sale May 11, 2021
The hunt for The Joker is under way, as Jim Gordon heads to a remote part of South America to run down a lead...and comes face-to-face with the Clown Prince of Crime himself! The mystery around A-Day deepens, but not before an attack by the blood-thirsty Sampson family!
Batman: Urban Legends #3
Writers: Che Grayson, etc.
Artists: Alberto Jimenez Albuquerque, etc.
On Sale May 11, 2021
Batman has come up against plenty of villains over the years, but during an intense confrontation in Batman: Urban Legends, he makes peace with one.
Future State: Gotham #1
Writers: Joshua Williamson, Dennis Culver
Artist: Giannis Milonogiannis
On Sale May 11, 2021
Disaster strikes Gotham City and all evidence points to Tim Fox, The Next Batman! Jason Todd chooses justice over his family and allies when The Magistrate enlists him to bring in the new Batman, dead or alive! Featuring the entire cast from the popular DC Future State Batman titles, Future State Gotham  begins the next chapter in this inevitable world of tomorrow and does so with this dynamic, noirish format.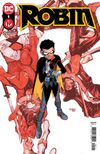 Robin #1
Writer: Joshua Williamson
Artist: Gleb Melnikov
On Sale April 27, 2021
After learning of the deadly League of Lazarus tournament, Damian Wayne has a new mission: to win the tournament and prove he is the greatest fighter in the DC Universe! But first he must find the secret island where the tournament is being held!
Batman: Black and White #5
Writer/Artist: Jamal Campbell, etc.
The penultimate issue of the acclaimed return to Batman Black & White is here with a look at some of Gotham City's most twisted and compelling souls.
• Jamal Campbell, acclaimed co-creator of Naomi and Green Lantern Jo Mullein from Far Sector, tells a story that spans the full history of Nightwing.
Batman: Urban Legends #2
Writer: Cecil Castellucci, etc
Artist: Marguerite Sauvage, etc.
On sale April 13, 2021
Barbara Gordon has identified a citywide system hack from a foe she faced before as Batgirl…but this time around, Babs may have found a way to defeat her for good as Oracle!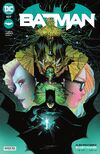 Batman #107
Writer: James Tynion IV
Artist: Jorge Jimenez
On sale April 6, 2021
Tensions are sky-high in Gotham City following the events at Arkham Asylum, and public opinion and unrest are starting to boil over. The Dark Knight has his hands full juggling the investigation of the reappearance of an old enemy and the rise of a new gang in Gotham called the Unsanity Collective... Gotham City is getting more dangerous by the minute!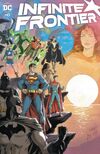 Infinite Frontier #0
Writer: James Tynion IV, etc
Artist: Jorge Jimenez, etc.
On sale March 2, 2021
The next phase of the DC Universe begins here! Dark Knights: Death Metal presented the darkest threats of the Multiverse. DC Future State revealed what may lie ahead. Now it's time to look into the Infinite Frontier of the current-day DC Universe.
In Gotham City, The Joker jolts citizens awake with an attack even the Dark Knight never expected. In Brazil, a young woman discovers her destiny and her connection to the Amazons. In Belle Reve, Amanda Waller plots an invasion of Arkham Asylum. In the far reaches of space, Mongul dreams of galactic domination, while the Green Lantern Corps hosts a summit of its greatest enemies. At the Hall of Justice, the League joins forces with Black Adam. Beyond the mortal world, Wonder Woman settles into a new role in the godsphere. And somewhere in the DC Universe—it's the return of Stargirl, in an all-new tale written by Geoff Johns!
This oversized, all-star issue kicks off the next great era of storytelling and excitement as top writers and artists reveal what's next for the World's Greatest Heroes and opens the door to some of the greatest stories of 2021.

Batman #106
Writer: James Tynion IV
Artist: Jorge Jimenez
On sale March 2, 2021
Following the tragic events of Infinite Frontier #1, Batman and his new ally, Ghost-Maker, must reckon with a new gang operating in Gotham City—but are they connected to the reemergence of the Scarecrow? Meanwhile, shadowy billionaire Simon Saint pitches an advanced law-enforcement system to the new mayor! The creative team behind the epic "The Joker War" returns with a thrill-packed, dangerous new storyline called "The Cowardly Lot."
Plus, the backup story "Demon or Detective" begins as Damian Wayne is on the run! After everything Damian has gone through, can he escape Gotham and find his way back to where his journey started—to his mother, Talia al Ghul? This two-part tale concludes this month in Detective Comics #1034!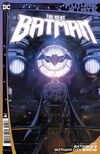 Future State: The Next Batman #4
"Batgirls"
Writer: Vita Ayala
Artist: Aneke
On sale February 16, 2021
In the finale of "Batgirls," after discovering the person locked in the high-security cell is the one who's been sending out "Batman Lives" signals to the Resistance, Stephanie Brown and Cassandra Cain must work together to make sure they take that person when they escape their prison!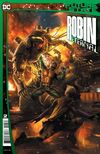 Future State: Robin Eternal #2
On sale February 9, 2021
Writer: Meghan Fitzmartin
Artist: Eddy Barrows
Tim Drake is dead at the hands of the Magistrate. Uh, so why is he getting back up again? With the dangerous and supercharged "Lazarus Resin" coursing through the veins of the hero once known as Robin, can Tim recover enough of his fragile psyche to finish the mission and blow the sky convoy? And can Spoiler and Darcy escape the clutches of Peacekeeper 03 in time to save their friend in the process? It all comes to a head in this cataclysmic finale!
Future State: The Next Batman #2
On sale January 19, 2021
"Batgirls"
Writer: Vita Ayala
Artist: Aneke
Also in this issue, Batgirls Cassandra Cain and Stephanie Brown find themselves in a prison where the Magistrate throws heroes and villains alike! What no one knows, though, is that Cassandra was sent there with a mission…
Future State: Robin Eternal #1
On sale January 12, 2021
Writer: Meghan Fitzmartin
Artist: Eddy Barrows
Lazarus Resin is on its way to Gotham City, and the Magistrate intends to use this regenerative super drug to make its forces immortal! That is, unless Tim Drake has anything to say about it! Join the ultimate heist at 20,000 feet as Robin and Spoiler hijack the sky convoy that could mean the end of freedom in Gotham forever—if the emotional baggage between Tim and Stephanie doesn't do them in first! It's the fist-flying, sky-diving, robot smashing, fascist-punching adventure that you cannot miss—from rising star writer Meghan Fitzmartin (Supernatural) and top artist Eddy Barrows (Detective Comics)!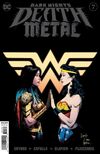 Dark Nights: Death Metal #7
On sale January 5, 2021
Writer: Scott Snyder
Artist: Greg Capullo
The song remains anything but the same as the house lights start to come up on DC's biggest, baddest battle for control of the Multiverse! The Darkest Knight is on the verge of ending this concert once and for all, but Wonder Woman has more than just a greatest hit planned. The Amazonian warrior stands ready to shred the Darkest Knight, solo! This extra-sized finale issue includes not one but two mind-blowing epilogues that lead directly into the next phase of the DC Universe—and no fan will want to miss that!
---
External Links
Batgirl to Oracle: The Barbara Gordon Podcast
---
Related Wikis
DC Comics • Cassandra Cain Mainframe • Batman • Wonder Woman • Young Justice