Justice/Doom War, Part 7
Justice League #36
November 20, 2019
Written by
Scott Snyder
Cover by
Francis Manapul
Interior Art by
Francis Manapul (1-13, 18-20), Howard Porter (14-17)
Colored by
Hi-Fi
Lettering by
Tom Napolitano
Edited by
Ben Meares, Jamie S. Rich
How powerful is too powerful? Lex Luthor has assembled everything he needs to complete his plan of turning the world toward doom, including reviving the ancient goddess Perpetua and restoring her powers. But can he keep Perpetua from dragging the DC Universe into the abyss alongside the rest of the Multiverse? This is a question that hero and villain alike must ask, as the epic battle between the Justice League and the Legion of Doom across space and time comes crashing together. Everything that happens here sets the stage for the senses-shattering finale of the Justice/Doom War-and the fate of all existence hangs in the balance!
Summary of Stephness: Steph appears as part of the worldwide Justice League gathering of heroes against the Legion of Doom!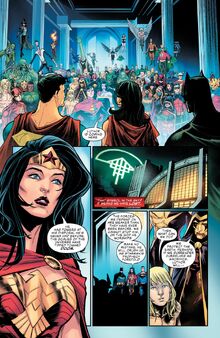 Community content is available under
CC-BY-SA
unless otherwise noted.