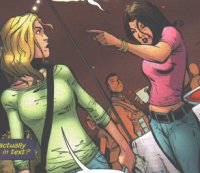 Jordanna attends Stephanie's philosophy class at Gotham University. She disparaged the inhabitants of "Devil's Square" in class, saying people only went there to keep running or go back to jail. Stephanie, stung by this attack on the lower class, replied aggressively that sometimes people don't have a choice. She also joked that maybe the inhabitants stayed for the schools, which Jordanna didn't take kindly too.
Jordanna plowed into Stephanie outside of school,yelling "Out of the way, funny girl!", making her drop her supplies. Jordanna's friend Francisco helped Stephanie pick them up, explaining Jordanna was generally unpleasant.
At the Gotham U Harvest Festival, Jordanna was the unfortunate victim of punch spiked with an agression heightening agent. Stephanie noticed that she was ranting and raving and talking in "text", such as when she said to Stephanie "O, itz you, Misz Freewill and everything- Hay. R yew poor or something?" Jordanna then proceeded to completely flip out, tossing the punch bowl and yelling "Toofast! Toomuch!". Afterwards, she collapsed. Stephanie caught her, holding her head above ground and yelling for somebody to call 911. She saw some men fleeing the scene and (realizing they must have spiked the punch) went after them once Jordanna was taken off her hands.
Despite her hostility toward others, Jordanna does genuinely care for her friend Francisco. Stephanie overheard Jordanna telling Francisco in the library that she was worried about him and that there was no way the fire at his dad's Global Housing building (started by Diesel and stopped by Steph) was an accident. She told him his dad was too deep with the shady stuff and he needed to cut his ties. Francisco explained that his dad was only protecting his family and he understood that Jordanna knew what was best for him and cared about him, but that he had to do this. Jordanna caught Steph eavesdropping on them and snarled "Can I help you? at her before storming off and telling Francisco he could dig his own grave.
Francisco later assured Stephanie that Jordanna was not his girlfriend.