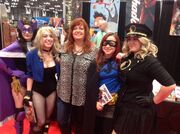 Writer best known for her runs on 
Birds of Prey
, 
Secret Six
, 
Wonder Woman
, and 
Batgirl
(volume 4). Simone referenced Stephanie's death in 
Birds of Prey
when Misfit wanted to be Batgirl (an event later referenced by Bryan Q. Miller in his own Batgirl run). At the conclusion of her Barbara Gordon-centric 
Batgirl
run as part of the New 52 line, she wrote an alternate universe isse of 
Batgirl
as part of the 
Future's End
event which featured Steph and Cassandra Cain as members of Gordon's League of Batgirls.