Detective Comics #1000
Detective Comics #1000
March 27, 2019
Written by
Tom King, James Tynion IV
Cover by
Jim Lee
Interior Art by
Tony Daniel, Alvaro Martinez
Colored by
Tomeu Morey, Brad Anderson
Edited by
Chris Conroy
After 80 years, it's here-the 1,000th issue of DETECTIVE COMICS, the title that literally defines DC! This 96-page issue is stacked with an unbelievable lineup of talent that will take you on a journey through Batman's past, present and future...plus a sensational epilogue that features the first-ever DC Universe appearance of the deadly Arkham Knight! But who is under the mask? And why do they want Batman dead? The incredible future of Batman adventures begins here!
"Batman's Greatest Case" by Tom King, Tony Daniel and Joëlle Jones
Groundbreaking BATMAN writer Tom King is joined by Tony Daniel and Joëlle Jones, who share artistic duties on the story. Presented using parallel story threads, Bruce Wayne visits his parents' grave while Batman assembles his entire coalition of allies around him.
Summary of Stephness: As the Batfamily gathers on a rooftop, Steph banters flirtatiously with Tim. The whole family speculates on why Batman called them together, until Batman appears and they discover it's for a family portrait.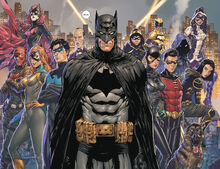 Batman Family and Rogues two-page spread by Jason Fabok: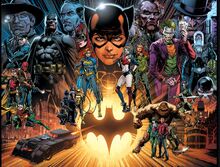 Behind the Scenes: On
twitter
, Tom King posted a picture of upcoming art from his short story in this issue by Tony Daniel, which included Steph, next to Tim, in her full face mask!