"Not Forgotten"

Catwoman #46
November 11, 2015
Written by
Genevieve Valentine
Cover by
Kevin Wada
Pencilled by
David Messina
Inked by
Gaetano Carlucci
Colored by
Lee Loughridge
Lettering by
Travis Lanham
Edited by
Rebecca Taylor, Mark Doyle
Previous Issue
Catwoman #45
Next Issue
Batgirl #46
As Eiko abandons the role of Catwoman, Selina's list of friends is growing perilously short. And when one of the Calabreses is in danger, she must decide what to save: her family or Gotham City! Will her closest ally become her greatest nemesis in this shocking conclusion?
Summary of Stephness: At Eiko's party, Steph tries to reason with her, but runs off when Eiko makes it clear that she won't be stopped. Later, she tells Catwoman that Eiko is behind the slaughter, and reveals that she killed Bill Turner to protect Batman's identity. Catwoman tells Steph that Turner was shot, and their fight didn't kill him. She congratulates Steph on remaining one of the good guys. Internally, Selina hopes the Bat-family has more to offer her than the Cats.
Behind the Scenes: The cover depicts Steph on Eiko's dress as she squares off against Catwoman. Valentine tweeted in September that she was "looking for a party dress for Stephanie that was under $30, because Steph is broke."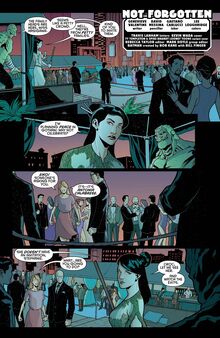 When the preview of Catwoman #46 was posted on the AV Club, Valentine tweeted that Steph's dress was from H&M, and cost $24.99.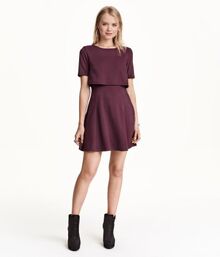 Other Formats/Collected In:
Digital Comic Book
Catwoman: Inheritance (Vol. 7) TPB

Variant Covers Edit
Community content is available under
CC-BY-SA
unless otherwise noted.