"The Daughter of One Who Had No Fear"

Catwoman #45
October 14, 2015
Written by
Genevieve Valentine
Cover by
Kevin Wada
Pencilled by
David Messina
Inked by
Gaetano Carlucci
Colored by
Lee Loughridge
Lettering by
Travis Lanham
Edited by
Rebecca Taylor, Mark Doyle
Previous Issue
Catwoman #44
Next Issue
Catwoman #46
In the wake of a tragedy, Selina and Eiko try to pick up the pieces. Can they each control their side of the turf war when a shocking development in Selina's quest to find Batman is revealed?
Summary of Stephness: After Eiko's father is murdered by Black Mask, she must ascend to lead the Hasigawas. She does so by publically beating a man to death, which Steph watches from the shadows of the Hasigawa training facility. She is shocked, and later approaches Eiko in her roof office. Eiko tells Steph that she's planning to kill all the smaller families which are causing problems.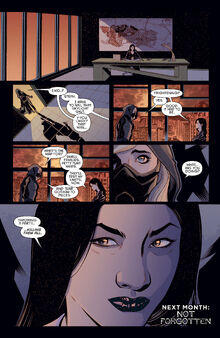 Other Formats/Collected In:
Digital Comic Book
Catwoman: Inheritance (Vol. 7) TPB

Variant Covers Edit