"Fire"

Catwoman #44
September 9, 2015
Written by
Genevieve Valentine
Cover by
Kevin Wada
Pencilled by
David Messina
Inked by
Gaetano Carlucci
Colored by
Lee Loughridge
Lettering by
Travis Lanham
Edited by
Rebecca Taylor, Mark Doyle
Previous Issue
Catwoman #43
Next Issue
Catwoman #45
As the mob's turf war for control of Gotham City continues to escalate, Eiko and Selina must make some hard decisions if they are to withstand the power plays of The Penguin and Black Mask. And how does Killer Croc fit into the action?
Summary of Stephness: As Eiko heals from Black Mask's attack (saved by Killer Croc), she continues to train Steph in the upper reaches of the Hasigawa facility. Steph is working with batons now against a training tree, and calls Eiko "Teach," as she did in Batgirl Annual #3. She's resistant to Eiko's training, now, because of how Eiko fared three nights ago against Black Mask (though Steph is still unaware of exactly who did it to her trainer). She throws Eiko's failure in her face, but immediately apologizes, to which Eiko quips, "As soon as I can move my arm, I'll punch you for it."
Steph asks who did it, but Eiko warns her not to get involved. Jumping to the conclusion that it was the other Catwoman, Steph begins to threaten, but Eiko says it wasn't Selina's fault, and shuts down the conversation. Steph is clearly hurt by the lack of trust, and shows herself out the roof air ducts.
On the roof, Steph crawls into Selina in full Catwoman gear. When Steph asks what Seline wants, she responds, "Your help." She hands Steph the Bill Turner murder file, telling her to steal Turner's safe deposit box and solve the crime. Steph realizes that Catwoman is deputizing, and threatens to throw the file away, but Catwoman bets she won't. Steph says, "Don't bet on me. I don't like it," as Catwoman jumps off the roof, responding, "Then...I'm hoping you won't." Her last thought for Steph before focusing on her work as head of the Calabrese family is, "Idealistic and annoyed. Who knows if she'll make it. But she's tenacious enough to hunt down the clues, and I need that."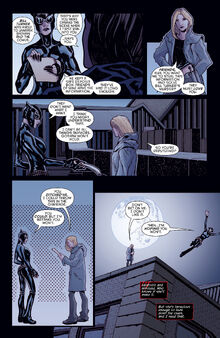 Other Formats/Collected In:
Digital Comic Book
Catwoman: Inheritance (Vol. 7) TPB

Variant Covers Edit
Community content is available under
CC-BY-SA
unless otherwise noted.