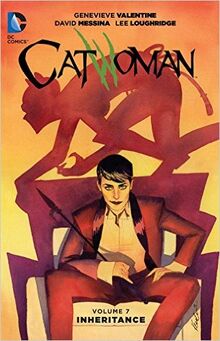 Catwoman: Inheritance (volume 7)
Edit
Trade Paperback
Collects Catwoman #41, Catwoman #42, Catwoman #43, Catwoman #44, Catwoman #45, Catwoman #46 plus the 8-page DC Sneak Peek: Catwoman.
Written by Genevieve Valentine
Art by David Messina
Cover by Kevin Wada
Catwoman's life of crime reaches stunning new heights at the hands of novelist Genevieve Valentine and artist David Messina (Angel, The Bounce). 
Selina Kyle-head of the Calabrese crime family-has survived a crime war with Black Mask and is managing an uneasy peace between the two factions. But old habits die hard. Upon hearing that Batman is dead, Catwoman goes on the prowl again in search of the Dark Knight. Can Selina lead a double life with her crime family nipping at her tail and Black Mask making moves to wipe the Calabrese family from Gotham? 
Catwoman's life continues to get muddled when the second Catwoman - a woman she has intimate knowledge of - takes it upon herself to safeguard Selina and train the upstart vigilante Spoiler. The cold war between Gotham's crime families heats up, and Selina must embrace her role or fall. But who is she - a crime lord or Catwoman? 
Softcover, 152 pages, full color. Cover price $14.99.
February 17, 2016
Other Formats:
Digital Comic TPB

Community content is available under
CC-BY-SA
unless otherwise noted.