"The Time of Your Life, Finale"
Batwoman #18
August 15, 2018
Written by
Marguerite Bennett
Cover by
Dan Panosian
Interior Art by
Fernando Blanco
Colored by
John Rauch
Lettering by
Deron Bennett
Edited by
Brittany Holzherr, Jamie S. Rich
Previous Issue
Detective Comics #981
Next Issue
Detective Comics #987
It's the series finale, and there's a lot of drama to resolve for Kate Kane, both in and out of costume. As Batwoman, she teams with Renee Montoya to thwart Clock King's latest time-bending enterprise: selling a drug that allows criminals to know if their crime will be successful—before it's committed. But Batwoman's facing a quandary to boot: Take this drug off the street, or use it herself to stop crime? The only fight tougher is the personal one: Should Kate and Renee give their relationship another chance?
Summary of Stephness: Steph and Tim appear in one panel near the end of this issue, driving in a car - referencing the last time we saw them in Detective Comics #981. However, in this image, Steph is driving, and wearing her Spoiler costume, whereas Tim was driving the last time they were seen, and both were wearing civilian clothes.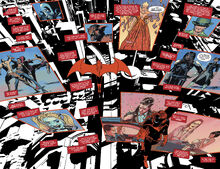 Behind the Scenes: Just as with Bombshells United #19, Bennett brings in a single image of Steph in her series finale.
Other Formats/Collected In:

Variant Covers Edit