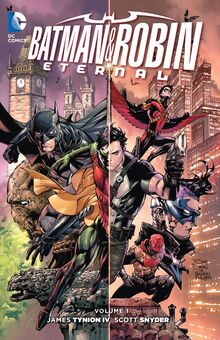 Batman and Robin Eternal volume 1
Edit
Trade Paperback
Collects the 8 page preview from Batman: Endgame Special Edition, BATMAN AND ROBIN ETERNAL #1, BATMAN AND ROBIN ETERNAL #2, BATMAN AND ROBIN ETERNAL #3, BATMAN AND ROBIN ETERNAL #4, and Batman and Robin Eternal #5 - #12.
Written by James Tynion IV, Scott Snyder, Tim Seeley, et al.
Art by Tony Daniel, Scot Eaton, Paul Pelletier, et al.
Cover by Tony Daniel
Scott Snyder and James Tynion IV kick off an epic mystery in the sequel to their blockbuster hit BATMAN ETERNAL, joined by such comics all-stars as Tim Seeley, Genevieve Valentine, Tony S. Daniel, Paul Pelletier and more. 
Bruce Wayne may no longer be Batman, but his legacy lives on. When an assassin begins targeting all of Batman's past partners, the former Robins must join forces to untangle a mystery that stretches back to the early days of the Dark Knight's career. 
Years ago, Batman encountered a human trafficker known as Mother. Then, Robin Dick Grayson knew nothing of it at the time, but the case was much more complex than he could have ever imagined. Now, without Bruce to guide them, a grown-up Grayson and his allies must rely on the help of the silent, mysterious Cassandra Cain to pick up the trail and stop Mother's deadly plans. 
But with Mother's army of sleeper agents all around, they can't trust anyone - even each other! 
Softcover, 272 pages, full color. Cover price $29.99.
March 15, 2016
Other Formats:
Digital Comic TPB

Community content is available under
CC-BY-SA
unless otherwise noted.