"Whisper Campaign"
Batman Eternal #32
November 12, 2014
Written by
Kyle Higgins, story by Scott Snyder and James Tynion IV, consulting writers Ray Fawkes, Tim Seeley
Cover by
Rafael Albuquerque
Interior Art by
Jason Fabok
Colored by
Brad Anderson
Lettering by
Taylor Esposito
Edited by
Dave Wielgosz, Chris Conroy, Mark Doyle
Previous Issue
Batman Eternal #31
Next Issue
Batman Eternal #40
The Spoiler is on the case to find the truth behind the nightmare at Arkham!
Summary of Stephness: Picking up from #31, Steph has been clothes lined by Hush, who is clearly annoyed at her campaign. While Hush belittles her, she fires right back, calling him, "Even lamer face to face" as she maces him in the bandages. Just as Hush is about to shoot our dashing dare-doll, Batman batarangs his gun, giving Steph the chance to do what she does best: ride Hush down on a motorcycle. As Steph thinks she is triumphant, Hush throws a grenade to mask his escape. Batman shields Steph from the shrapnel, but when he turns to ask her name, she, too, has disappeared.
Clearly, this is a sort of regrouping issue for the heroes as well as the villains. Batman rescues Steph, Batwing, and Alfred (though all three manage to pull off a large portion of their own escapes), and returns to the Batcave to recover and strategize. Hush, in the meantime, gives Jason Bard orders to continue tightening the GCPD's grip on the city, and triggers Batman's hidden explosives to cause more chaos.
Behind the Scenes: Cover for this issue (one of the three in the series with Steph on the cover) was done by Rafael Albuquerque, primarily known for his work on American Vampire with Scott Snyder, but also the artist for half of the Robin/Spoiler Special by Chuck Dixon.
Other Formats/Collected In:
Digital Comic Book
Batman Eternal Vol 2 TPB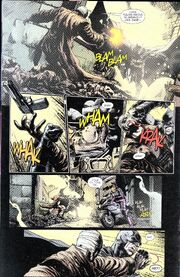 Community content is available under
CC-BY-SA
unless otherwise noted.