Batman - Detective Comics: Rise of the Batmen (Volume 1)
Edit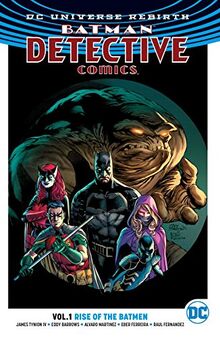 Trade Paperback
Collects Detective Comics #934, Detective Comics #935, Detective Comics #936, Detective Comics #937, Detective Comics #938, Detective Comics #939 and Detective Comics #940.
Written by James Tynion IV
Art by Eddy Barrows and Alvaro Martinez
Cover by Eddy Barrows and Eber Ferreira
A part of DC Universe: Rebirth!
DETECTIVE COMICS is back! Follow the adventures of Batman, the world's greatest...teacher?!
The Dark Knight and series co-star Batwoman team up to take new protégés Red Robin, Spoiler and the villainous Clayface under their leathery wings! The only problem is, neither new super-instructor knows exactly what they're in for as the attempt to train these wiould-be heroes before a mysterious army takes Gotham for themselves.
From the new creative team of writer James Tynion (BATMAN/TMNT) and artist Eddy Barrows (MARTIAN MANHUNTER), DETECTIVE COMICS brings back the characters you know and love and thrusts them into dangerous, new adventures!
Rebirth honors the richest history in comics, while continuing to look towards the future. These are the most innovative and modern stories featuring the world's greatest superheroes, told by some of the finest storytellers in the business. 
Honoring the past, protecting our present and looking towards the future. This is the next chapter in the ongoing saga of the DC Universe. The legacy continues.
Paperback, full color. Cover price $16.99.
Print Release Date: February 14, 2017
Other Formats:
Digital Comic TPB

Community content is available under
CC-BY-SA
unless otherwise noted.