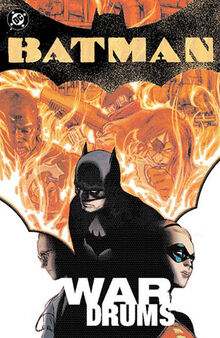 Collects Detective Comics (1937) #790 - #795, Detective Comics (1937) #796, Robin (1993) #126, Robin (1993) #127 and Robin (1993) #128.
War has hit Gotham City...but the stage was set in the startling prelude to 2004's "War Games. A talented pop star goes missing and Leslie Thompkins, the most important woman in Bruce Wayne's life, vanishes. Batman is drawn into an all-out battle for the section of Gotham City known as The Hill, but is taxed to the limit by new threats and trouble within his circle of allies. And when Tim Drake gives up his Robin identity after his father discovers his secret, Batman gets an unexpected and unwelcome replacement in the form of Spoiler!
Softcover, 256 pages full color. Cover price $17.95.
Out of Print, but all issues collected in Batman: War Games Book One
Community content is available under
CC-BY-SA
unless otherwise noted.