"Mindfield"

Batgirl #49
March 2, 2016
Written by
Cameron Stewart and Brenden Fletcher
Cover by
Babs Tarr
Interior Art by
Horacio Domingues, Babs Tarr, Roger Robinson, Ming Doyle, James Harvey
Colored by
Serge LaPointe, James Harvey
Lettering by
Steve Wands
Edited by
Dave Wielgosz, Chris Conroy, Mark Doyle
Previous Issue
Batgirl #47
Next Issue
Batgirl #50
To unravel the secret of Batgirl's bizarre new nemesis, her friends must travel to strange and uncharted territory: the inside of Barbara Gordon's spectacular mind!
Summary of Stephness: Steph and Harper search the sewers for the evil Fugue while Babs is under his mental attack.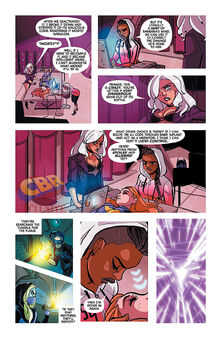 Other Formats/Collected In:
Digital Comic Book
Batgirl: Mindfields (Vol. 3) TPB

Community content is available under
CC-BY-SA
unless otherwise noted.