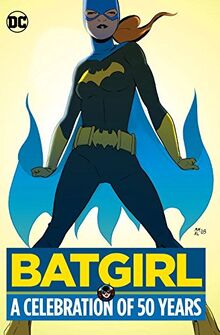 Batgirl: A Celebration of 50 Years
Edit
Collects: Batman #139, Detective Comics #359, Detective Comics #371, Detective Comics #422-424, Batman Family #9, Detective Comics #518-519, Batgirl Special #1, Batman Chronicles #5, Batgirl Year One #4, Birds of Prey #8, Legends of the Dark Knight #120, Batgirl #8, Batgirl #45, Batgirl #4, Batgirl #13, Batgirl #0, Batgirl #35.
Cover by Marcos Martin
Fifty years ago, Batgirl made her Million Dollar Debut taking down the nefarious Killer Moth. And ever since, the butt-kicking hero has been a vital part of Batman's team and a role model for girls everywhere, squaring off against mobsters, assassins, super-villains and more.
Though many young women have worn the cowl—from unassuming librarian Barbara Gordon to deadly mute assassin Cassandra Cain to teen vigilante Stephanie Brown—all have made their distinct mark on the DC Universe.
Now BATGIRL: A CELEBRATION OF 50 YEARS collects all the greatest triumphs and most tragic moments of the many Batgirls in one volume, offering a crash course in the character, from Babs' first appearance by Gardner Fox and Carmine Infantino to her modern-day adventures by Cameron Stewart, Brenden Fletcher, Babs Tarr, Gail Simone and more.
Hardcover, 384 pages, full color. Cover Price $39.99.
Print Release Date: February 21, 2017
The flavor text about Steph reads:
"Part III - 2009-2011
Spoiling for a Fight
Stephanie Brown's time as Batgirl was brief but memorable.
She was the daughter of the Cluemaster, an inept costumed villain whose crime sprees were always failures. Stephanie decided that the best way to stop her father's hapless criminal career was to don a purple costume and call herself the Spoiler. With her new identity, she spoiled her father's schemes by leaving clues with the police.
Stephanie was a skilled martial artist, and she enjoyed her new life as the Spoiler. She teamed up with Robin (Tim Drake) to fight crime and occasionally flirt. Although Tim resisted at first, their relationship soon blossomed into a romance.
The Spoiler also fought alongside Cassandra Cain during her time as Batgirl, and the two developed a close friendship. When it appeared to everyone that Batman was dead, Cassandra relinquished the role of Batgirl and bequeathed it to Stephanie.
Oracle fashioned a new Batgirl costume for Stephanie and tried to mentor her, but Stephanie was impulsive and headstrong. Oracle had to concede, though, that Stephanie was a fearless crime-fighter who bravely battled some of Gotham's deadliest foes, including the Scarecrow and the Black Mask.
The one obstacle Stephanie couldn't overcome was DC's 2011 "New 52" overhaul, which completely wiped out her history as Batgirl. Luckily, though, she returned as the Spoiler in 2014."
Other Formats:
Digital Comic TPB