DC MULTIVERSE SPOILER
6 inch action figure
Standard Retail Price: $19.99
Available: Fall 2018 Walmart
Source: http://thefwoosh.com/index.php/2018/02/toy-fair-2018-mattel-press-event-live-coverage/
Toy Fair 2018
BATMAN REBORN SERIES 1 ACTION FIGURES
In one of the most exciting, ongoing comics events in recent years, a cast of familiar characters assumes the mantle of the bat. And out of the events of BATMAN REBORN, a new generation of heroes rise!
Now don't miss out on the action figures based on this award-winning, best-selling series, which includes both Azrael and Batgirl in their new costumes.
Batgirl 5.75"
4-color clamshell packaging.
On sale July 14, 2010
Retailers, please note: Batman: Jason Todd, Batman: Two-Face, Azrael and Batgirl are intended for individual sale to consumers, but are sold to retailers in inner and master case assortments. Consult your Retailer Order Form for packaging and pricing details. These products are being offered simultaneously beyond the comic-book specialty market.
From Newsarama.
A really great review with an amazing photo gallery here: http://www.shesfantastic.com/2013/04/stephanie-brown-batgirl.html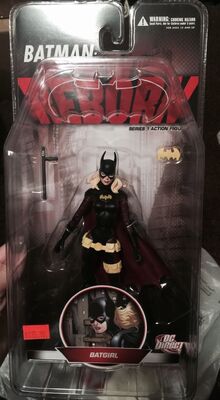 Steph comes with a baton and a yellow batarang (possibly even a gooperang!).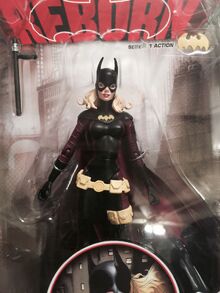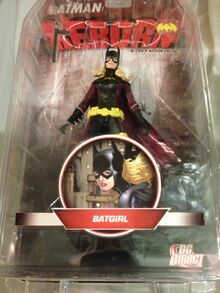 The portrait used on the front of the clamshell is from
Batgirl #4
.
The text on the back of the package reads:
"BATGIRL. Stephanie Brown has fought crime in Gotham City for years - as the Spoiler. After a brief stint as Robin, she trained with Cassandra Cain. When Cassandra disappears, leaving her costume behind, Stephanie takes the costume as her own. With Barbara Gordon as her mentor, the new Batgirl must battle criminals as well as detractors from within Batman's own ranks."
Community content is available under
CC-BY-SA
unless otherwise noted.